Can I certify my candidates' test sittings?
Yes, if you have purchased credits from us, you can issue certificates to your test-takers via the dashboard. You will also have visibility into which sittings have already been certified.

To issue certificates, please log in to your dashboard and select 'Certify' as shown below. You can also filter the candidate sittings so you are only looking at those who have not yet been certified, for example.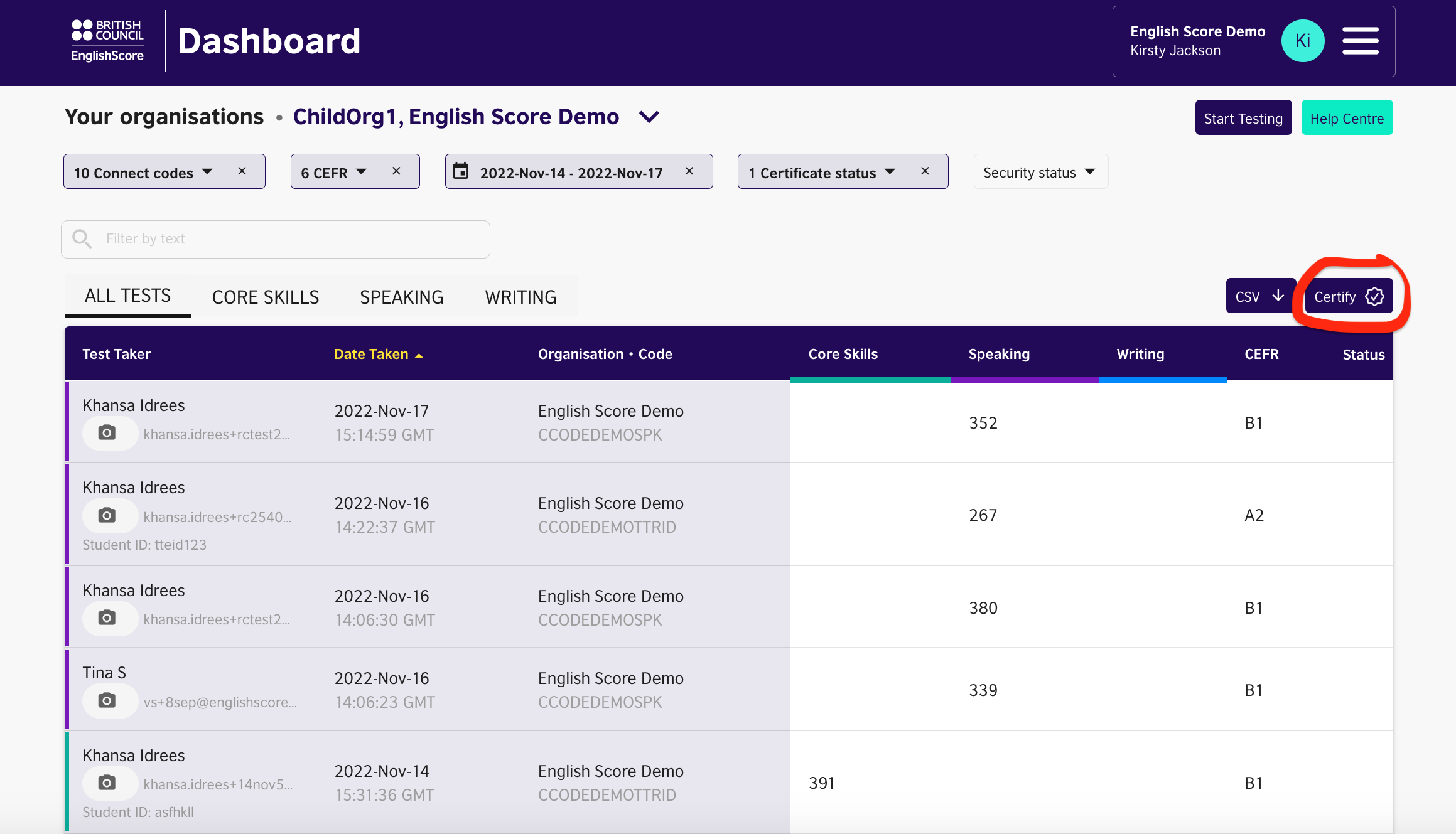 Once you have selected 'Certify', you can select a single sitting, multiple sittings, or all sittings. This can be done for all tests, or solely Core Skills, Speaking, or Writing tests. Please note, you will need to press 'done' when you have made your selection. Make sure you are happy with the sittings you wish to certify, as this action cannot be undone.

You will see various certification statuses on the dashboard. Green icons are for Core Skills tests, purple icons are for Speaking tests, and blue icons are for Writing tests:

| | | |
| --- | --- | --- |
| Status | Icon | Definition |
| Certificate complete | | Sitting has been certified; the certificate can be viewed. |
| Certificate pending test-taker | | Sitting is in the process of being certified. Test-taker must complete certification process by confirming name and photo |
| Certificate is being checked | | Sitting is in the process of being certified. Our team of human reviewers are checking the test sitting images. |
| Sitting can be certified | | Sitting has been selected. A certificate may be awarded for this sitting. |
| Sitting can be certified | (blank) | Sitting has not yet been selected. A certificate may be awarded for this sitting. All available sittings will be blank initially, unless they cannot be certified. |
| Sitting invalidated | | Sitting cannot be certified. Not all sittings are eligible for certification. |

Once you have chosen the sittings you wish to certify and confirmed your choices, the test-takers will be sent an email and receive a notification in the app. This will inform them that they have a certificate to claim. The test-takers will then be able to build their certificate with their name and photo, and it will be sent to our security team to review.

Once the sittings have been certified, you are able, as an admin, to view and download a candidate's certificate from the dashboard.

Please see the video below of how to certify a candidate's test sitting: